South African Public Holidays for 2017

List of 2017 Public Holidays for South Africa

For the latest information please check www.gov.za/about-SA/public-holidays

Although every effort is made to keep this list correct, BlueGnu can't be held responsible for any errors

1st January - New Year's Day

2nd January - Public holiday

21st March - Human Rights Day

14th April - Good Friday

17th April - Family Day

27th April - Freedom Day

1st May - Workers Day

16th June - Youth Day

9th August - National Women's Day

24th September - Heritage Day

25th September - Public holiday

16th December - Day of Reconciliation

25th December - Christmas Day

26th December - Day of Goodwill

---

Got a comment about the content on this page?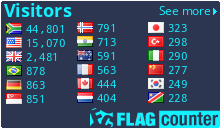 Copyright Steven Herbert T/A Steven Herbert Projects, 2013 - 2019. All rights reserved.