Large Hairtail butterfly

Afrikaans name: Grootkortstertjie

Anthene lemnos lemnos

The Large Hairtail butterfly has a wingspan approaching 3 cm. Male and female are similar in size.

The upperside of the male's wing is a dark purple with black margins. The females are more dull. As you can see from the photo the underside of the wing is cryptically coloured.

The Large Hairtail is normally found in vegetated areas where it likes to perch in the shade.

In South Africa they are mainly found in the coastal region of KwaZulu-Natal.

Got a comment about the content on this page?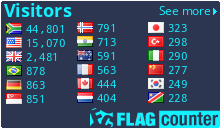 Copyright Steven Herbert T/A Steven Herbert Projects, 2013 - 2019. All rights reserved.