Weeping Boer-bean

Afrikaans name: Huilboerboon

Schotia brachypetala

The Weeping Boer-bean grows to a height of 12 metres or so.

It gets masses of red flowers which are borne near the stems.

The seedpods of the Weeping Boer-bean flat and around 15 cm in length.

The wood from the tree is used in making furniture.

The tree gives off large amounts of nectar at times some of which drips to the ground and gives rise to its common name. The nectar on the tree is enjoyed by many birds, insects and some mammals.

Got a comment about the content on this page?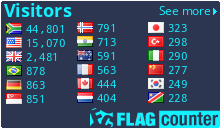 Copyright Steven Herbert T/A Steven Herbert Projects, 2013 - 2019. All rights reserved.