Brown-veined White butterfly

Afrikaans name: Grasveldwitjie

Belenois aurota

The Brown-veined White Butterfly has a wingspan of around 45 mm with females being slightly larger than males. Other names for this butterfly include African Caper White and Pioneer White.

It is a common species which, at times, becomes so abundant that large numbers migrate to new regions. Brown-veined Whites occur over most of sub-Saharan Africa and the southern parts of Asia.

Brown-veined Whites can often be seen feeding on flowers, but they also settle on the ground where there are damp patches.

They can be found all-year round over much of their range.

Got a comment about the content on this page?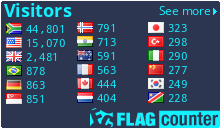 Copyright Steven Herbert T/A Steven Herbert Projects, 2013 - 2019. All rights reserved.