Broad Scarlet

Afrikaans name:

Crocothemis erythraea

The Broad Scarlet dragonfly is common over much of South Africa. It is also found in most of Africa through to southern Europe and the Middle East.

The male is a beautiful orange-red in colour while the female has an olive-brown colouration. They are around 4 cm in length with a wingspan of 6.5 cm.

They are normally found perched on grass, sedge or rocks near water. The males are territorial.

The Broad Scarlet is mainly seen during December to April but in some places it may be encountered all year round.

Got a comment about the content on this page?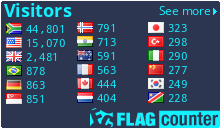 Copyright Steven Herbert T/A Steven Herbert Projects, 2013 - 2019. All rights reserved.