Cosmos

Afrikaans name: Kosmos

Bidens formosa

There are over 20 different plants belonging to the Cosmos family.

Cosmos are native to northern South America, Central America (especially Mexico) and the southern states of the USA.

The species of Cosmos found in South Africa is a perennial plant.

The flowers may be found in white and various shades of pink.

Cosmos is extremely common alongside the highways in the Free State. The flowers make for a really beautiful display.

Got a comment about the content on this page?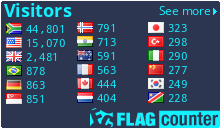 Copyright Steven Herbert T/A Steven Herbert Projects, 2013 - 2019. All rights reserved.