Thick-billed Weaver

Afrikaans name: Dikbekwewe

Amblyospiza albifrons

The Thick-billed Weaver is widely distributed across Africa.

They have a distinctively heavy bill which gives them their common name.

Males are a dark brown with a white forehead and a white patch on their wings. Females are more of a streaky brown and lack the white forehead and patches. The white patch on the forehead of the male is present only during the breeding season.

During the breeding season Thick-billed Weavers are found in reedbeds and riverside vegetation. During the non-breeding season they may be found in a variety of habitats.

They reach a length of 18 cm.

Above - Male Thick-billed Weaver

Below - Female Thick-billed Weaver

Got a comment about the content on this page?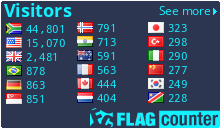 Copyright Steven Herbert, 2013 - 2020. All rights reserved.