Cape Mountain Zebra

Afrikaans name: Kaapse Bergkwagga or Kaapse Bergsebra

| | |
| --- | --- |
| Equus zebra zebra | Interesting facts about Mountain Zebras |

In the 1930's the Cape Mountain Zebra faced extinction. Since 1937 efforts have been made to build up the population but there are still only a few hundred of these animals in existence.

The Cape Mountain Zebra is smaller than the common Burchell's Zebra. Their stripes are quite different as well. They don't have 'shadow' stripes and the stripes do not extend onto the underparts of the zebra.

As its name suggests this mammal is found in higher areas in the Western and Eastern Cape. The Mountain Zebra National Park, near Cradock, was established specifically to help conserve them.

Cape Mountain Zebras live in small herds led by a stallion. Surplus males form bachelor herds. Their main food is grass.

| | |
| --- | --- |
| Above - Cape Mountain Zebra | |

| | |
| --- | --- |
| Above - Herd of Cape Mountain Zebras | |

Got a comment about the content on this page?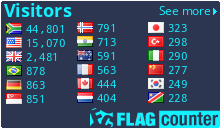 Copyright Steven Herbert T/A Steven Herbert Projects, 2013 - 2019. All rights reserved.